We saw our Uxbridge franchisee, Ed Pockney, pick up the 2019 Franchisee of the Year award in the Business Transformation category, and moments later, we picked up the main award of the night, being named overall Franchisor of the Year for 2019.
As a franchised business, Driver Hire has collected many awards over the years and this is the second time that we've won the most prestigious award in the UK's franchise industry.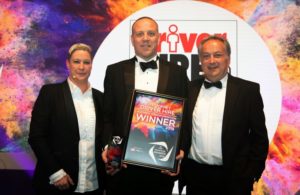 Ed Pockney was delighted with his award in a category that highlights second generation franchisees that achieve new levels of growth, profitability and efficiency. Ed has taken Driver Hire Uxbridge from the bottom end of the company league tables to a regular place in the top 20, having increased turnover six-fold in under five years.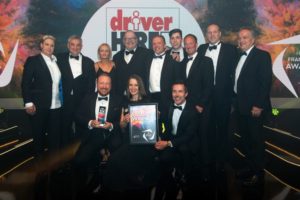 Commenting on Driver Hire's Franchisor of the Year gold award, the judges highlighted the company's consistent excellence in franchising over many years, and appreciated, "an enviable training programme and onboarding process, as well as committing £3 million in technology in just three years to help the network thrive."
Chris Chidley, CEO of Driver Hire's parent company Specialist People Services Group, said, "We are all really pleased for Ed and immensely proud to have won the top Franchisor of the Year award for a second time. It's testament to a lot of hard work from so many people across the Driver Hire network and to our commitment to doing business the right way. We've shared a very successful few years with our franchisees and this award is the icing on the cake."
Posted by Roxana Marian on 29th of November 2019
New changes to the Class 1 (Cat. C+E) driving test.
New changes to the Class 1 (Cat. C+E) driving test have been introduced from Monday 15th November 2021. The changes will see the addition of a "fast-track" option for training towards a Class 1 (Category C+E) licence.
Prior to the change, drivers had to pass the test to drive a Class 2 (Cat. C) vehicle before being able to train and pass a test in a Class 1 (Cat. C+E) vehicle – a "staged" testing procedure. From Monday 15th November 2021, the staged testing procedure will no longer be required. Instead, drivers can learn to drive a Class 1 artic directly from their Category B (car), or Class C1 (7.5-tonne) licence. Once their C+E licence is acquired, drivers will be entitled to drive both Cat C (rigid) and Cat C+E (articulated) large goods vehicles. Courses will generally provide training in both vehicle types, and drivers do have the option to train towards a standalone Class 2 rigid licence first, should they wish.
This change aims to free up an additional 50,000 tests a year, as learner-drivers can pass their Class 1 test in a shorter time – helping towards getting more HGV drivers on the roads sooner.
Driver Hire Training can help you train towards your Class 1 licence in a way that suits you, including the new fast-track option. To discuss the variety of training options we offer, get in touch below. Our team can provide you with the information you need to train towards your new HGV licence.
Posted by Roxana Marian on 29th of November 2021