Keeping fit & healthy
Professional drivers are naturally on the road for a large part of the time and over a third say they find it a challenge to stay healthy. It's important to look after your physical & mental wellbeing and a little knowledge of how you can, goes a long way. Take a look at these top tips from Driver Hire's own HGV drivers covering everything from keeping in shape, getting enough rest and food prep: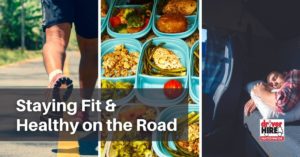 Join our team
It is incredible to think that over 23,000 Driver Hire candidates supported 5,000+ businesses across the UK last year. Those individuals drivers and other logistics staff collectively covered a staggering 790,000 shifts and what's more, when we asked how they felt about working here, 95% of the 1,000+ who responded said they were proud to work for Driver Hire. Our candidates do an incredible job for our clients who rely on them, because they're treated as the professionals that they are.
Driver Hire Uxbridge your prefered local supplier
It is incredible to think that over 23,000 Driver Hire candidates supported 5,000+ businesses across the UK
last year. A staggering 790,000 shifts were covered by essential logistics staff drivers and a wide range of
other roles enabling organisations to meet often critical deadlines.
What's more, when we went out to ask our customers to rate the level of service we were providing, 98% of
the 400+ who responded rated it as either Excellent or Good 79% rated Excellent (both scores, our best
ever!)
If you need reliable staff cover from a quality candidate, great service from a local logistics recruitment
expert AND excellent value for money you know who you call: Driver Hire Uxbridge on 02030567590
#dhProud #uxbridge
Driver Wellbeing
As a professional driver, your health and well-being is key to being safe while at work. Here are some tips to keep your well-being in check:
Here are some tips to keep your well-being in check.

1. Initial Vehicle Checks
Doing a daily walk round check is not just to ensure the vehicle is safe for the road; making sure everything works properly also ensures your own safety.
The cab: access, seat position and seat belts, mirrors and all vehicle controls

Wheels & tyres: check for any damage, secure wheel nuts

Also check visibility, load security, brakes, fuel tank, fluids and couplings
2. Sleep
Fatigue is a factor in 20% of all road collisions – get as much rest as possible before setting off on any journey.
Lack of sleep will affect your reaction times and how you respond to situations on the road

Don't drive tired. Take proper rest and breaks, and if you feel tired on the road, pull over

Adhere to Drivers' Hours Rules – they are there to keep you safe
3. Weather
High winds, fog, rain, freezing temperature and bright sunshine can all affect driving conditions, your safety, and that of other road users.
Adjust your driving to meet the conditions on the road – drive at a safe speed

Before you set off, check you have everything you need to stay safe on your journey

Do you know what the weather is likely to be like where you are travelling?
4. Loading Safety
Manual handling, loading activities and loading bays are all naturally hazardous. Always focus on safety first and remember.
Observe all rules and signage, and be mindful of other vehicles and personnel

Inspect all equipment regularly for wear and tear or damage, both on and off the vehicle. If in doubt, don't use it, and report it

Check your load is properly positioned, secure, not overweight, and does not impair your vision

5. Speed
Travelling too fast for the conditions is recorded by police as a contributory factor in more than 28% of fatal crashes in the UK.
Are you aware of speed limits and stopping distances for the vehicle and the road?

Road safety charity Brake estimates that every 1mph reduction in average speeds lowers crash rates by 5%

Adopt 'defensive driving' techniques to reduce speed and fuel consumption – and lower stress                                                                                                                                                                                                                                                                                                                                                                                                                                     6. Distraction and StressA Brake and Direct Line survey of UK drivers found that 71% had lost concentration at the wheel within a 12 month period due to stress or annoyance.

Some distractions are obvious, such as changing the radio

Emotional distractions – running late, having an argument, getting good or bad news – can all affect your reactions

It is illegal to use a handheld mobile phone while driving. Put it in the glove box so it can't distract you

7. Accidents & Breakdowns

Accidents and breakdowns can have serious consequences for your safety – whatever happens never put yourself in danger to move the vehicle.

Where possible use the hard shoulder, emergency refuge area or a lay-by, and switch on hazard lights

Exit from the passenger side, away from moving traffic

If your vehicle is blocking a road or you cannot exit safely, call the police immediately with your location

8. Health


Vital to your safety and wellbeing – and drivers are a recognised 'at risk' group.

Have a balanced diet. Limit fast food. Snack on fruit, and stay hydrated with plenty of water

Fitness – proven to be a mood lifter

Take a walk whenever you can & ensure you are active outside of work

Regular Eye Tests – road crashes involving a driver with poor vision are estimated to cause 2,900 casualties. Look after your sight.

9. Personal Safety

HGV drivers can be subject to risks of theft or physical attack, particularly if you are a trunking driver or you have a valuable load. To help keep you safe:

Always remove keys and lock doors when leaving the vehicle

Plan your route ahead and keep all documentation about your load out of sight

Avoid dark, unlit spots when parking, particularly overnight. Use a secure location wherever possible

These tips are a guide only and should not be taken as an authoritative document.

10. Mental Health advice

Did you know that 1 in 4 people will experience a mental health problem each year in the UK? What's more, professional drivers have been identified as a high-risk group when it comes to mental health. We talk readily about our physical health, so why should mental health be any different? Take a look at these tips on 'Professional Drivers Mental Health' that may help to start a conversation.
Posted by Roxana Marian on April 12th 2023
Looking for a stable service? Driver Hire Uxbridge is a safe bet!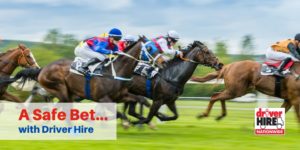 Looking for a stable service? Driver Hire Uxbridge is a safe bet! Whether you need emergency, planned, long-term temporary hire or someone permanent, we can help with your staffing hurdles. Our people are the best, and we ensure that's the case by gaining full references and our drivers undergo a 150-point skills test. So the next time you need quality assured staff, just call us on 02030567590 #people #staffing #references #quality #help
Posted by Roxana Marian on April 12th 2023
We saw our Uxbridge franchisee, Ed Pockney, pick up the 2019 Franchisee of the Year award in the Business Transformation category, and moments later, we picked up the main award of the night, being named overall Franchisor of the Year for 2019.
As a franchised business, Driver Hire has collected many awards over the years and this is the second time that we've won the most prestigious award in the UK's franchise industry.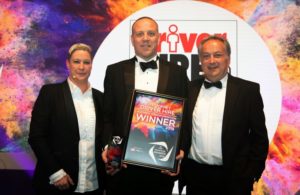 Ed Pockney was delighted with his award in a category that highlights second generation franchisees that achieve new levels of growth, profitability and efficiency. Ed has taken Driver Hire Uxbridge from the bottom end of the company league tables to a regular place in the top 20, having increased turnover six-fold in under five years.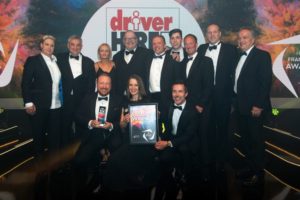 Commenting on Driver Hire's Franchisor of the Year gold award, the judges highlighted the company's consistent excellence in franchising over many years, and appreciated, "an enviable training programme and onboarding process, as well as committing £3 million in technology in just three years to help the network thrive."
Chris Chidley, CEO of Driver Hire's parent company Specialist People Services Group, said, "We are all really pleased for Ed and immensely proud to have won the top Franchisor of the Year award for a second time. It's testament to a lot of hard work from so many people across the Driver Hire network and to our commitment to doing business the right way. We've shared a very successful few years with our franchisees and this award is the icing on the cake."
Posted by Roxana Marian on 29th of November 2019
New changes to the Class 1 (Cat. C+E) driving test.
New changes to the Class 1 (Cat. C+E) driving test have been introduced from Monday 15th November 2021. The changes will see the addition of a "fast-track" option for training towards a Class 1 (Category C+E) licence.
Prior to the change, drivers had to pass the test to drive a Class 2 (Cat. C) vehicle before being able to train and pass a test in a Class 1 (Cat. C+E) vehicle – a "staged" testing procedure. From Monday 15th November 2021, the staged testing procedure will no longer be required. Instead, drivers can learn to drive a Class 1 artic directly from their Category B (car), or Class C1 (7.5-tonne) licence. Once their C+E licence is acquired, drivers will be entitled to drive both Cat C (rigid) and Cat C+E (articulated) large goods vehicles. Courses will generally provide training in both vehicle types, and drivers do have the option to train towards a standalone Class 2 rigid licence first, should they wish.
This change aims to free up an additional 50,000 tests a year, as learner-drivers can pass their Class 1 test in a shorter time – helping towards getting more HGV drivers on the roads sooner.
Driver Hire Training can help you train towards your Class 1 licence in a way that suits you, including the new fast-track option. To discuss the variety of training options we offer, get in touch below. Our team can provide you with the information you need to train towards your new HGV licence.
Posted by Roxana Marian on 29th of November 2021